Deceased Afghan war veteran's family frustrated by Bravery Park delays
Nov 08, 2016
Six Remembrance Days later, Orangeville's Bravery Park is still without a home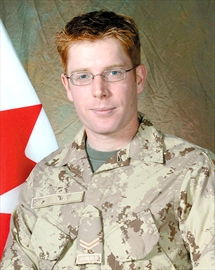 Cpl. Matthew McCully
Killed by a roadside bomb while touring with the Canadian Forces in Nalgham, Afghanistan on May 25, 2007, Cpl. Matthew McCully is the inspiration behind the town's Bravery Park project.
Orangeville Banner
By Chris Halliday
The sister of deceased Afghanistan war veteran Canadian Forces Cpl. Matthew McCully says her family is close to waving the white flag on Bravery Park in Orangeville.
"There is not much fight left in us," said Shannon McGrady, chair of the Bravery Park committee. "I don't know how much longer we're willing to keep trying to give Orangeville a Bravery Park. We just get one letdown after another it seems."
This will be the sixth Remembrance Day to pass since the concept to honour Canada's soldiers and war veterans was first proposed by McCully's mother Valerie McGrady to town council back in 2010.
Orangeville's Bravery Park
Chris Halliday
Canadian Forces Cpl. Matthew McCully's sister Shannon McGrady and her son Joshua prepare to lay a wreath in the former Orangeville resident's honour during the annual Remembrance Day ceremony
So far, the committee has watched several locations be unearthed from beneath it. Now, the Orangeville project, which "would" have been a first of its kind in Canada, has found itself without a permanent home for the second time in a year.
"Our goal was to always have Bravery Parks all across Canada," McGrady said. "But because we started this with the inspiration from my brother, we wanted Orangeville to be the first."
Well, it isn't, and it may not even be the second. With assistance from the Orangeville committee, a Bravery Park has already been built in Prince George, B.C.
Now, a developer in London, Ont. has earmarked some land within a new development in hopes that the Bravery Park committee can help it build another one there.
"All this is happening but we keep getting held up here," McGrady sighed. "It is clear that Canada wants Bravery Parks. It is sad that the first one hasn't even got off the ground yet."
After possible locations at Mill Square Park and Morrow Crescent were scrapped, Mayor Jeremy Williams says town staff have suggested a third site at the Alder Street recreation centre.
On Thursday (Nov. 10), a meeting to gather public input will be held inside the TD Green Room at the Alder arena at 7 p.m. Williams admits the project has travelled along an "interesting path" thus far.
"I feel that the project is so important that whether it is completed in a year, or three years, or even longer, it is worth the wait," he said. "It has been a bumpy road in places but I don't see it stopping or failing."
Council first identified Mill Square Park on the corner of Church and Mill streets as the future home for Bravery Park in 2010.
However, Orangeville Hydro's discovery of 90-year-old traces of arsenic in the soil about two feet underground on its land directly adjacent to the park — the area used to house a couple of mills in the early 1900s — threw a wrench in those plans.
It is still not known whether the soil in Mill Square Park is contaminated. Although he doesn't understand the logic behind it, Williams says council has been unwilling to find out.
"We were just told to keep fundraising. No one stopped us," McGrady sighed, explaining the committee withdrew from Mill Square Park after learning a soil remediation plan that could take several years and cost between $60,000 and $300,000 might be required.
"We found out that we were trying to fundraise for a park that we had no idea could be contaminated," McGrady said. "There were too many unknowns."
Then, there was council's recent flip-flop when it came to another site on Morrow Crescent earlier this fall.
After approving a park on Morrow Crescent as Bravery Park's new home on Aug. 22, council reversed its decision a month later when nearby residents opposing the project convinced council to investigate rezoning the site from open use recreational to conservation.
"We were quite disappointed," McGrady said, noting her committee had already paid to have a consultant rework its blueprint for that site. "Council had already confirmed that site. They ended up going back on their word."
Williams was "never really sold" on the Morrow Crescent location. He has always thought Mill Square Park made the most sense, but the mayor feels the Alder Street location holds some promise.
"We're just looking at it," Williams said, explaining the town plans to gather public input before "selecting" it as opposed to the way things were done on Morrow Crescent.
"The way we did it before is staff would identify a spot, it went to council and then people found out about it," Williams said. "We're doing it differently. We're doing it a better way. I think last time there was a misstep."
It has been nearly one decade since McCully died after being killed by a roadside bomb in Afghanistan in 2007. On Friday (Nov. 11), six Remembrance Days will have passed since the park inspired by his sacrifice was first proposed.
That lack of progress has been "hard" to stomach, McGrady admitted. She said there have been days when her mother wonders whether or not the committee should keep soldiering on.
"We don't have the time and the resources to keep pouring into it," McGrady said. "If it is not going to happen, they need to tell us."
http://www.orangeville.com/news-story/6953431-deceased-afghan-war-veteran-s-family-frustrated-by-bravery-park-delays/

---
Permissions in this forum:
You
cannot
reply to topics in this forum