MacLaren proposes identification of veterans on provincial ID cards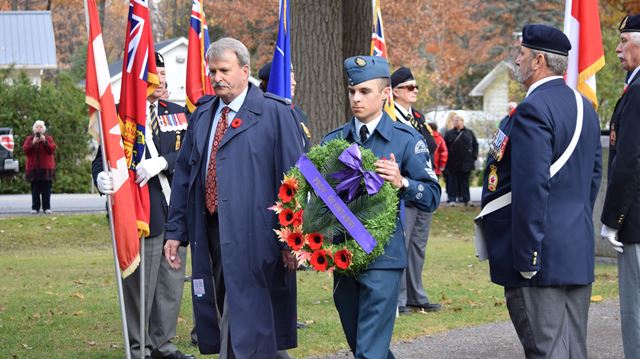 MPP Jack MacLaren, with cadet Scott Coulombe, lays a wreath at the Constance Bay Remembrance Service this year. MacLaren will introduce a private members bill in March 2017 to add identification for veterans on provincial ID cards.
Nov 21, 2016
Kanata Kourier-Standard
By Jessica Cunha
Conservative Carleton-Mississippi Mills MPP Jack MacLaren announced on Nov. 15 he will introduce a private members bill to add identification of veterans to provincial ID cards.
The proposal calls for a small yellow bar with the word veteran to be located below the photograph on driver's licences and Ontario identification cards to indicate the bearer is a veteran, said MacLaren.
"I think it's appropriate that we show respect for our veterans and I think we could show more – that's what we're trying to do here," he said.
If passed, the provincial identification would be optional for veterans, which include all former members of the Canadian Forces who have been honourably released, as well as those who served in the reserve force, as well as special and domestic duties.
The bill will be presented on March 17.
"We thought it would be appropriate to speak about it now since we just had the Remembrance Day services last week," said MacLaren.
MacLaren said he expects the Liberals and NDP will back the bill.
"We're all Canadians and we all enjoy freedoms," he said. "And it's the veterans who fought for and obtained those freedoms."
BENEFITS
The federal veterans ombudsman has been calling for a national identification card for veterans since 2013, said MacLaren. And although veterans have access to a CFOne card issued by the Canadian Forces Morale and Welfare Services, it has no photo identification and "is not widely used." MacLaren's office added the Ontario identification card (often used in place of a drivers licence by non-drivers) would not replace any Forces ID.
The benefits of adding identification for veterans to provincial ID cards include public recognition of service, potential discounts, and emergency first responders could more easily triage veterans for service-related conditions such as post-traumatic stress disorder, said MacLaren.
"Going into an event or an accident, a situation, it would just give them some information on the individual; that this person is a veteran," he said.
Identification could potentially provide financial benefits as well.
"We see in the U.S. where they do have identification for veterans; there have been private sector businesses (that) have chosen to offer discounts," said MacLaren. "Perhaps in Canada too certain businesses might choose or be willing to offer a slight discount to veterans out of respect for their service."
The cost to modify existing ID cards would likely be low, said MacLaren. However, no cost analysis has been completed.
MacLaren said he is open to any changes that might be suggested for the bill.
"If there are adjustments and changes that have to be made as we move along we'll be accepting of that," he said. "I just want to get identification on cards."
http://www.insidehalton.com/news-story/6978560-maclaren-proposes-identification-of-veterans-on-provincial-id-cards/
I think this is a great Idea!

Simple to do, and will give Veterans a sense of accomplishment that they all deserve, not to mention the benefits they may get from it.
Well they'll have to teach / train the General Public as well if they do go that route.

Like I am not against it, when I go shopping at Sobeys, and or Rexall store, I always get asked
do I have an airmiles card.

So then what you'd have to do, if they went this route would be saying to these stores which want to
participate, to now say, Do you have an Air miles card and or a Veterans Card, though your Veterans Card
won't get you air miles, though as they said, maybe a discount to whatever store(s) actually participate
in offering Veterans with Cards a discount..

BinRat

CSAT Member




Number of posts

: 266


Location

: Komoka


Registration date :

2008-09-18



Oh, and by the way, Ontario Did add, to the Ontario Drivers License, upper right hand corner I think

if your a Canadian Citizen, though they did charge people Additional $$$ to get that added onto the card..

So ya wouldn't be hard to add, just a matter of who'll be paying the $$$ to get it added on..

BinRat

CSAT Member




Number of posts

: 266


Location

: Komoka


Registration date :

2008-09-18



Maybe it would be 'make you feel good' thing. I do not see much benefit from having one.
Not too many discounts for vets in Canada. AirCanada and WestJet: not bad. How about some small towns and municipalities with their recreating facilities, swimming pools, etc. Not in my town.  They run it but no discounts for vets. But, they are front and centre at all the parade 'supporting' veterans.  Probably lots of examples, but why bother.
At least it looks like political party is doing something. Good PR again but not much substance

czerv

CSAT Member




Number of posts

: 240


Location

: Ontario


Registration date :

2013-05-15



Just my 2 cents here but the reason for this bill is about reimbursement to the provinces by the feds.

Now that money is being cut by the feds to the provinces for health care each province needs to be able to identify and submit the proper amount each year per veteran.

This is one of the main reasons VAC does not want to hand out veteran ID cards...money.

That said this bill is dead on the first vote because the Libs have a majority.

Teentitan

CSAT Member




Number of posts

: 3314


Location

: ontario


Registration date :

2008-09-19



So out of touch, yes an ID card as a Veteran will fix everything.

Will the ID card get NVC Vets a disability pension.  Since there are two types of systems, only logical that we get two types of ID cards.

The PA Vets will get a monthly discount throughout the year while the NVC Vets will get an immediate lump sum discount that is at a lesser amount in the long run.
Dear Jack Mac, please do not create any confusion.  Stay on the topick of PENSION.

czerv

CSAT Member




Number of posts

: 240


Location

: Ontario


Registration date :

2013-05-15





Similar topics
---
Permissions in this forum:
You
cannot
reply to topics in this forum