Disappointment over Sault waterfront monument
Local military figure says feds should have come through with Canada 150 funding for Veterans Commemorative Monument
July 11, 2017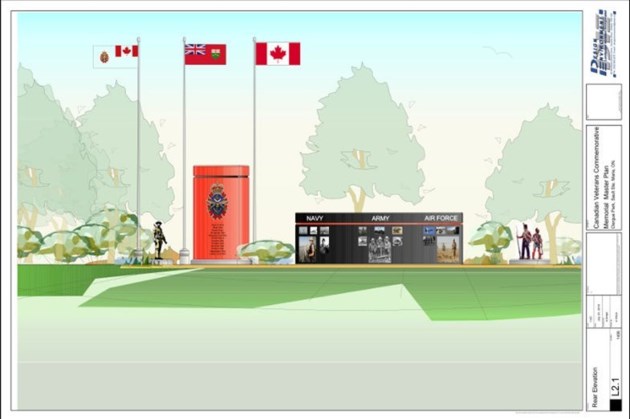 Rendering of proposed Veterans Commemorative Monument for John Rowswell Park, courtesy of Clyde Healey
The Veterans Commemorative Monument, a project which, it was hoped, would be an outstanding Canada 150 monument the people of Sault Ste. Marie could point to with pride, is still very much on the drawing board, despite disappointment with a lack of federal government support.
Clyde Healey, well-known for his longtime involvement with the 155 Borden Gray Royal Canadian Air Cadet Squadron and the 49th (Sault Ste. Marie) Field Regiment, Royal Canadian Artillery (first as its commander and now as its Honourary Lieutenant-Colonel), along with other local military figures, first raised the idea of the Veterans Commemorative Monument to city council in Aug. 2014.
"In the case of the feds we've made about five different applications for Canada 150 funding. The main one, which we hoped to get, was for $150,000. That one, we were denied outright because they said we didn't fit the criteria," Healey told SooToday.
"We made several other applications, about four of them for various amounts and the answer always came back 'no,' we didn't fit the criteria."
"In a couple of cases, the answer I found almost insulting. They said the Sault was not in a central location with not a large enough population. We are the geographical centre of Canada. We still have a large tourist population that comes through this area. I thought the whole idea was to help the smaller communities."
Healey emphasized he still wants to continue speaking with Sault MP Terry Sheehan and see if there is any funding available for 2017 and 2018.
Healey said applying for provincial money for the monument has been a challenge as well, due to changes in Trillium funding.
The estimated total cost to erect the monument is about $750,000 to $800,000.
Approximately $160,000 has been raised toward the project so far, Healey said.
Healey said he and the group behind the monument are appreciative of donations made so far by individuals and groups such as steelworkers unions and financial institutions.
While Healey said he understands hard economic times in the community are a valid reason for people not to come forward with donations for the project, he said the federal government's response has been disappointing in light of so many other Canada 150 projects which received funding.
"The project is still very much alive but the situation at the steel plant has obviously not given any clarity as to what's going on in the community. No businesses or corporations or individuals are prepared to give out larger sums of money without knowing what the future is," Healey said.
Healey, with artistic renderings in hand and builders ready to construct the monument, won approval from council in principle in 2014 to build the monument at John Rowswell Park.
The Veterans Commemorative Monument is intended to honour not only those who gave their lives in the various wars Canada has fought in, but to honour all those from the Sault and area who volunteered to play a role in conflicts and peacekeeping missions Canada has been involved in.
Those wars and peacekeeping missions range all the way from the War of 1812, the Boer War, two World Wars, Korea, to the war in Afghanistan and current missions to countries such as Latvia.
It is believed the number of people who volunteered to serve from Sault Ste. Marie and area (10,000 men and women, it is estimated) exceeds the percentage of those that volunteered from other communities.
"Canada has been involved and punched above its weight level in helping other people obtain their democratic rights and freedoms," Healey said.
"Canada is a peacekeeping nation but we're also peacemakers…and a lot of that has been done without conscription, by voluntary effort."
"That has to be recognized."
Any individual, group, organization or corporation who wishes to contribute toward the monument may do so by going online or by calling
Clyde Healey at (705) 946-2464.https://www.sootoday.com/local-news/disappointment-over-veterans-monument-667247

---
Permissions in this forum:
You
cannot
reply to topics in this forum