Common sense?
If the GoC had common sense, Canada would be in a better place.
This leader of ours is "an actor."
It (no respect for this leader) can turn on or off tears, it's all for show (let me pull this white hanky out of my pocket and rub my eye)
Bravo and the Oscar goes to.....
What radical groups are our military being advised not to be a part of?
Is it the ones online fighting for Veterans?
The ones on social media talking about the GoC (VAC) and exposing the lies that they do not want other military members to know of?
BS, red tape, hoops and road blocks.
Get injured and tossed to the curb!
Another Lawsuit?
Were you discriminated against because you had a physical or mental injury and lost your career because of it?

Dannypaj

CSAT Member




Number of posts

: 1152


Age

: 41


Location

: Halifax


Registration date :

2015-01-29



I seen this on the news just the other day. What does the government expect when they show favoritism to all these special interest groups.
Trudeau crying at every one he attends
Where is his neutrality?
What this shows is a division within the country
Not a good thing.
Every time permitted protesters try to protest anything against the government, a group of masked terrorist in my opinion show up and become violent, question is who sponsored them?
Normal Canadians don't do this, so who is this Antifa?
There are counsels for every ethnic group, thought they came here to be Canadian and recieve the same rights as every other Canadian.
How many taxpayers dollars are going into these groups?
What the hell has happened to this country political correctness is one thing but in my opinion this is bs, none of them should be funded being here being Canadian should be enough your not special nor should you have special rights or receive taxpayer funding!!!
Aboriginals are the only special interest group entitled threw treaties, the others have zero entitlements in my opinion.
The government has to be neutral if they want individuals to be neutral, that's just comon sense!!!
'We have to be neutral': Canadian Forces warns members affiliated with radical groups

Military members are forbidden from joining organizations against army's code of ethics

CBC News -- Oct 04, 2017
The warning about not associating with far-right groups comes nearly three weeks after the province's anti-radicalization centre held a training session for both military personnel and civilian employees.
The Canadian Armed Forces is warning its personnel to be wary of associating with groups on social media, including Quebec's largest and most prominent far-right group.
"Being part of those movements is not something that's a part of our values," said Col. Paul Fuller.
An investigation by Radio-Canada found about 75 members of La Meute's private Facebook group are part of the Armed Forces, with some visibly identified by their military uniform.
La Meute, which has attracted more than 43,000 people to its Facebook group, is known for its public criticism of radical Islam and illegal immigration. Its three founders are ex-military.
Military members are forbidden to join organizations that don't respect the army's code of ethics.
"We have to be neutral when it comes to public opinion," said Fuller. "And we can't have personal opinions that go against our code of ethics and values."
Those who don't respect this fundamental rule can face disciplinary measures, ranging from a first warning to expulsion from the ranks, said Fuller.
The warning comes nearly three weeks after the province's anti-radicalization centre held a training session for both military personnel and civilian employees with the Armed Forces based in Valcartier, Que.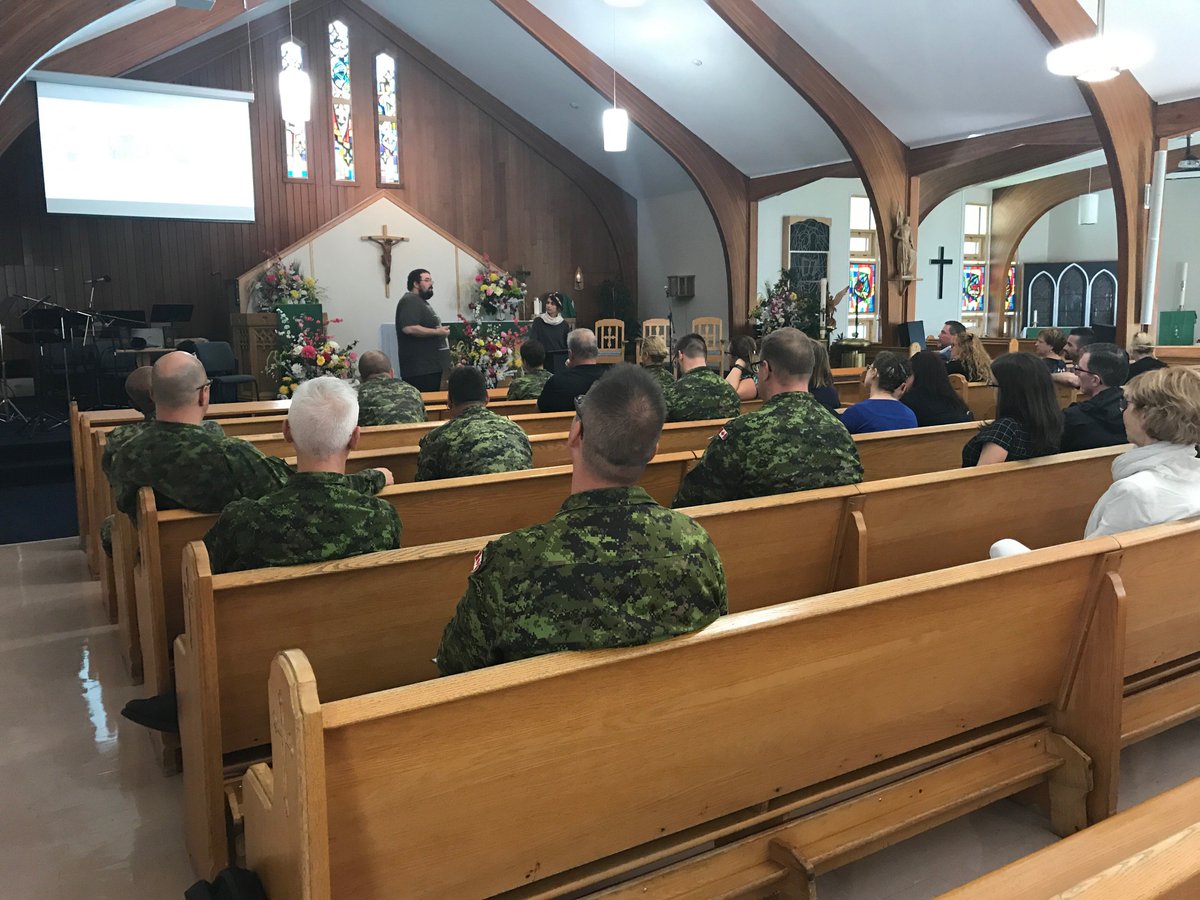 We offered a training session to military personnel and civilian employees on #prevention of #radicalization @ForcesCanada #Valcartier
'I got out'
Kevin Laflamme, a young soldier who is on his way to being released from the military, admits that he was part of La Meute when it first began in 2015.
"I got out of that group pretty quickly," Laflamme told Radio-Canada. "There's different people in it. Some people said sensible things, but others were too radical.
"I didn't want to affiliate with that so I decided to leave."
The far-right group La Meute's private Facebook page has more than 43,000 members.
Affiliating with La Meute is also grounds for being turned away from Les Eaux Curatives, a local program that supports military personnel coping with psychological or physical injuries.
Bob Danis, the vice-president of Les Eaux Curatives, said he has no desire to associate with any radical groups.
"We don't want them to come here for recruitment," said Danis. "We risk being barred from the military base, by the clinic for trauma linked to operational stress injuries and by Veterans Affairs Canada."
http://www.cbc.ca/news/canada/montreal/quebec-military-warns-members-joining-groups-la-meute-1.4327085


Similar topics
---
Permissions in this forum:
You
cannot
reply to topics in this forum